An Airbus A-380's Business Class lavatory was used as a makeshift dungeon yesterday for an impromptu "scene". The A-380-800 is the largest passenger aircraft in the world and features ample space compared to most planes. The Business and First Class cabins feature lounges, bars and large bathrooms.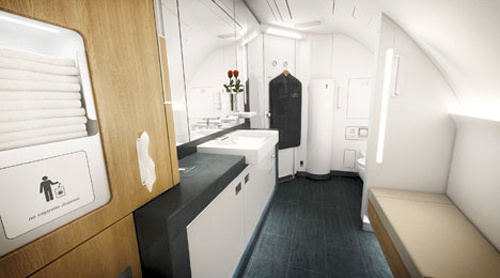 "We were flying home from vacation in the United Kingdom and when I saw that bathroom, I just knew I had to beat my submissive," said Eric Johnson of San Diego, CA. Using the shoehorn from the amenity kit provided by the airline, Johnson took Beth McNabb into the Business Class lavatory, a spacious 8-foot by 4-foot room designed primarily for handicapped passengers, and proceeded to beat her with the "pervertable."
Later in the scene, he removed his dress shoe and used it as a paddle, then removed his belt for a strapping as McNabb bent over the closed toilet. "It was super-hot," said McNabb, Johnson's submissive for more than two years. "We never dreamed we'd be in this kind of 'mile-high club'."
"The ambient noise in the plane is loud enough to mask most scene sounds," Johnson said. "Beth screamed a few times. We hoped people would think it was just the movie. I think people have noise-canceling headphones."
On their next flight the two are planning a fire and wax scene, though Johnson is studying how to disable the lavatory smoke detector before going through with the plan.